The live streaming went without a hitch and they were able to provide us with some helpful metrics.
Live Streaming Solutions.

PH Production Services Ltd have been at the cutting edge of live-streaming for a number of years developing bespoke solutions for clients as the technology rapidly develops. We have experience of delivering live-streaming events for conferences, live music, theatre and a number of installations, training and events for faith based organisations.
We have well equiped studios in Newcastle Under Lyme where we deliver a number of live stream events for our clients and are equally happy to deliver projects in other venues and locations.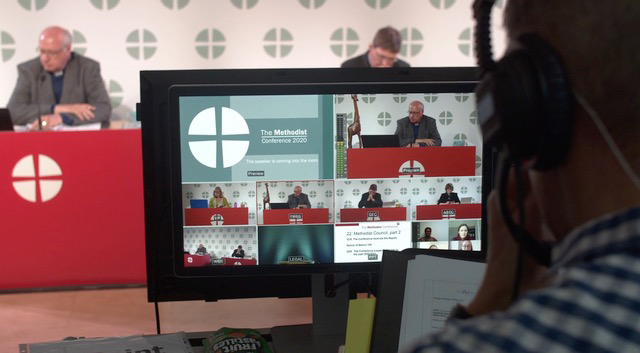 Now that the Methodist Conference is over, we can pause to appreciate just what an extraordinary achievement it has been to run it at all in the current circumstances. You and your colleagues in the technical team are the people, perhaps more than anyone else, who have enabled this to happen. We thank you very much indeed for your hard work, skill and professionalism through the preparations and during the Conference itself. The Conference is central to the life and governance of the British Methodist Church, with oversight of its whole life and interpretation of its doctrines. You and your colleagues have enabled us to undertake its work efficiently and effectively.
Why choose us?
Our continued investment in state of the art equipment allows us to stay ahead of the curve in live-streaming technologies and able to maintain a competetive edge when it comes to cost. We have an experienced team who will work with you to achieve exactly what you want from your project and offer advice as to best practice.
Multi-camera HD streaming with TV production values is what we deliver.
It all starts by listening to you and understanding exactly what you want from a streamed event, so why not contact us today.